Is foundation repair covered by homeowners insurance? If you're a homeowner facing a somewhat steep foundation repair bill, this might be one of the first and most important questions you'll ask!
Homeowners insurance doesn't cover repairs needed due to age or standard wear, or neglect such as clogged gutters or poor property drainage. Repairs due to covered perils such as vandalism, a vehicle running into the home, fire, and the like are often covered by your insurance.
Your insurance agent is the best source of information when it comes to the foundation repairs you need on your property and what's covered by your policy. However, you might also note some added information about most insurance policies, construction defects, and other such foundation issues. You can then make the best decisions for your home and know that its foundation is always in good condition.
Is Foundation Repair Covered by Homeowners Insurance?
While every insurance policy is different, most homeowners policies cover pretty much the same type of damage and causes. To better understand this, consider what is typically covered, and what is usually not covered, by a homeowner's insurance policy.
What homeowner's insurance doesn't cover
Some homeowners fail to understand that your insurance is not going to cover damage caused by your own neglect. For example, if you don't keep gutters clean and clog-free, rainwater might wash over their sides and then pool around the home's foundation. Foundation concrete will then absorb that water and suffer chips, cracks, spalling, and other such damage.
In the same way, if your property is not properly graded or you neglect needed drainage, water might collect around the home's foundation and increase the risk of damage. Leaking sprinkler systems can also mean water damage repair costs, which your insurance company is not likely to reimburse!
Homeowners insurance also doesn't cover repairs needed due to everyday wear and tear or simple age. Over time, foundation concrete might soften or suffer cracks as it absorbs moisture and dries out, expanding and shrinking throughout this cycle. This type of damage is rarely covered by homeowner's insurance.
A homeowner might also not realize how added weight to a home's structure might damage the foundation; new construction foundation is installed at a certain thickness and depth so it can hold up a certain amount of weight. Adding new stone floors, an additional story, a sunroom, and other such features can put too much weight on the foundation, risking cracks and other damage. Homeowners insurance is not likely to reimburse the cost of those repairs!
What homeowner's insurance typically covers
A homeowner's insurance policy will reimburse the costs for what are called "covered perils," or certain causes of damage. These usually include vandalism or accidental damage such as caused by a vehicle running into the home or a tree falling on it without warning.
Fire damage is also typically covered by homeowner's insurance. In some areas, an insurance company might also be legally required to provide coverage for common perils such as hurricanes, unless you purposely exclude that coverage. (See https://www.valuepenguin.com/homeowners-insurance/florida-wind-insurance)
Homeowners insurance might also cover damage caused by accidents out of your control. For example, if foundation concrete absorbs water from a burst pipe or damaged water heater and then cracks or chips, repair costs might be covered by your insurance.
Does a Home Warranty Cover Foundation Issues?
Note that there are two kinds of home warranties; one is from a builder of a new home and the other is from the seller of an occupied home. A new construction warranty is often valid for one or more years after construction or purchase and will usually cover such structural features as the home's framing, plumbing, wiring, and foundation.
A seller's warranty is usually not as encompassing and typically won't cover the cost of repairs for a foundation cracking or outright collapsing. One vital reason for this is that mortgage lenders require a full house inspection before offering a loan, or cash buyers are expected to arrange their own inspections before purchasing any property.
In turn, a buyer should understand if there are foundation defects before purchasing the property. A buyer might negotiate with the seller and offer a lower price accordingly, but don't expect the seller's warranty to cover any repair issues included in a property inspection report.
Home Builder Liability
Home builder liability varies from state to state; if you have a question about needed repairs for a new home, it's vital that you contact a real estate attorney before making any assumptions about who is responsible for repair costs! A builder's liability might also be affected by how well you maintained that home if you performed DIY repairs or upgrades, and other such factors. An attorney can advise the timeframe of liability in your state and if you might have a claim against a builder.
Is an HOA Responsible for Foundation Cracks?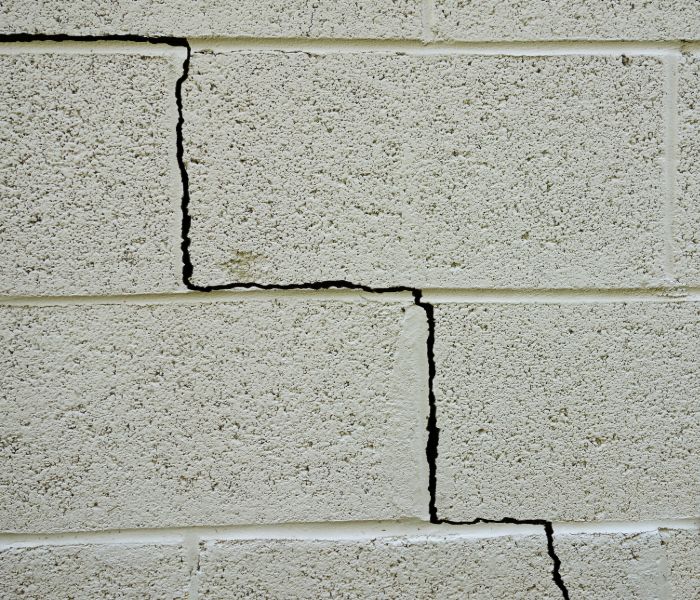 Most homeowners associations or an HOA are responsible for foundation cracks, as these are considered structural and part of a property's exterior. However, before you make any assumptions as to who pays for what in a house or condo governed by an HOA, it's recommended you take a copy of the bylaws to a local attorney. He or she can review your HOA agreement as well as any inspections by local contractors and advise if your homeowners association should be held liable for crack repair.
Can You Sue Your Own Homeowner's Insurance?
A property owner can sue their own homeowner's insurance carrier if they feel they have a legitimate claim but are being denied reimbursement for foundation repairs. However, before you decide to go this route, remember that attorney fees are often steep; it's typically advisable for you to work with a public adjuster first, before attempting to file a lawsuit. A public adjuster is not an attorney but can review your policy and coverage and then work on your behalf to get reimbursed for the cost of repairs, if possible.
Buying a Home With Foundation Repair Needs
A home that has had foundation repair is not necessarily a poor investment. Many foundation repair companies guarantee their work to last for decades, and repair methods such as house leveling or underpinning should keep the foundation in good condition for many years to come.
A homebuyer might also note if the homeowner has addressed the cause of foundation damage; for example, if they've installed a French drain or have corrected the property's grade. Addressing the cause of foundation damage should also protect those repairs for years if not decades.
If you're considering purchasing a home with foundation damage, note that a property inspector can tell you the extent of the damage but typically cannot tell you expected repair costs! Consult with a repair contractor so he or she can evaluate the damage and offer advice on potential repair costs. You can then decide if the home is worth those costs and if you can afford to make those repairs as needed.
Do All Older Homes Have Foundation Damage?
While foundation concrete and pier and beam foundations tend to degrade over time, this doesn't mean that all older homes have foundation damage by default! If a homeowner is diligent about waterproofing their home's foundation and has invested in a crawl space vapor barrier or encapsulation services, that foundation can stay in good condition for many decades.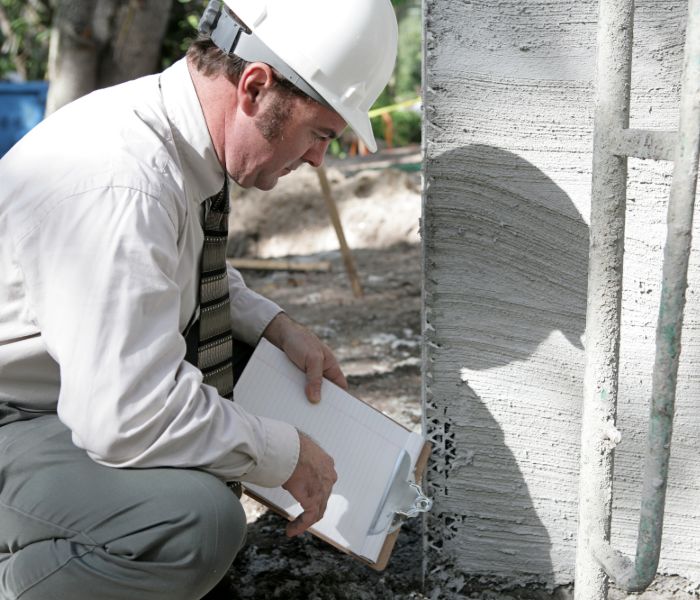 A homeowner may have also invested in foundation repair when it was needed, so that concrete and pier and beam foundations might be older but in good condition. The quality of the foundation materials and their installation can also affect their condition over the years; high-quality concrete mixtures and skilled contractors can mean a foundation that lasts indefinitely.
If you're considering purchasing an older home, have the foundation, framing, plumbing, roof, electrical, and other vital components inspected thoroughly. You might be surprised at their condition, depending on the current homeowner and their diligence in making repairs and scheduling needed maintenance, and can find that even an older home is an excellent investment!
How Can You Afford Foundation Repair Costs?
If you don't have cash on hand for foundation repairs, consider a home improvement or home equity loan, which can often be easier to obtain and might have a lower interest rate than credit cards and personal loans. Some foundation repair companies also offer to finance, and their interest rates are also typically lower than other lenders.
When shopping around for financing, remember that you don't want to risk low-quality repairs by choosing a contractor offering the lowest bid. Some inexperienced contractors or those using poor-quality materials might offer lower bids to compensate for their work, but this can mean repairs that don't last! It's often recommended that you invest in quality repairs even if they're a bit costlier, so you know those repairs will last.
Avoiding Foundation Repair
One of the best ways to afford foundation repair is to avoid unnecessary fixes in the first place! While concrete and piers and beams will degrade over time no matter how well you maintain those materials, a few simple maintenance steps can help avoid otherwise unnecessary repairs and extend their lifespan as long as possible.
Regular waterproofing is an excellent investment in your structure's foundation. Waterproofing protects foundation materials from water damage including chips, cracks, and spalling. Crawlspace encapsulation also protects piers and beams as well as a home's underside from rot and mold.
It's also vital that you prevent water from pooling around the foundation. Keep gutters clean and clog-free, so rainwater gets directed to nearby downspouts and away from the home rather than washing over the gutters. Downspout extenders also keep water away from the foundation! Ensure the property is graded properly and invest in added drainage solutions such as a French drain if needed.
Property owners should also invest in repairs as needed, to keep cracks and chips from getting larger over time. Consider annual or semi-annual foundation inspections and have your repair contractor fill in cracks as needed, so you avoid more extensive foundation damage!
Signs Your Home Has Foundation Damage?
Don't wait until you see cracks along foundation concrete to schedule repairs! There are often many signs of a weak foundation that indicate needed repairs; scheduling those fixes as soon as possible can help avoid more costly damage, as said. Call a foundation repair contractor and schedule an inspection if you notice any potential signs of damage inside and outside the home:
     

As a foundation weakens, it settles and then pulls on interior walls and ceilings, forming cracks.

     

This pulling and settling can also pull plumbing pipes and connectors out of place, risking water leaks.

     

Foundation cracks let moisture into a basement or lower levels of a structure. If you notice a damp, musty environment, this can indicate foundation damage.

     

Moisture coming through foundation cracks can also mean wood rot and mold.

     

Uneven surfaces in the home often indicate a weak, sinking foundation. These can include shelves or pictures that don't seem to hang straight!
What Happens If You Don't Repair a Foundation?
While a home with a weak foundation might not collapse, this doesn't mean it's safe to ignore needed foundation repair! The longer you put off those repairs, the more extensive that damage, as said. A severely cracked ceiling can also collapse, risking more damage and injury to anyone below.
Those foundation cracks also let in moisture that risks unhealthy mold growth and wood rot along a home's framing. In severe cases, basement walls can weaken to the point of bowing inward and they can then collapse, leading to even greater damage and very costly repairs. To avoid all these risks, schedule needed foundation fixes at the first sign of damage and ensure you're doing everything you can to protect your structure's foundation from future damage.
Indianapolis Foundation Repair Experts is happy to provide this information to our readers and hopefully, it helped answer the question, is foundation repair covered by homeowner's insurance? If you have questions about your insurance coverage, don't hesitate to speak to your agent or insurance provider. If you are in the city and need foundation repair, turn to our trusted Indianapolis foundation repair contractors. We offer convenient appointments and quality repairs that last. To find out more, give us a call today.